If you cannot ready this newsletter correctly, click here
OFFICES
UK portugal spain Brazil USA argentina
| | |
| --- | --- |
| | TRAVEL TIPS |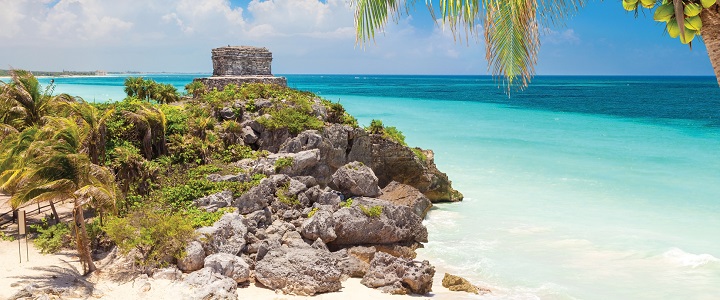 Cancun and Riviera Maya
Mexico
The region of Quintana Roo offers natural sceneries, historic attractions and nightlife. And everything surrounded by a light colourful tropical spirit by the most beautiful turquoise waters and the joy of a people who takes pride in knowing how to welcome visitors.
| | |
| --- | --- |
| | Hotel Options |
cancun
paradisus cancun
resort & spa

cancun
grand park royal cancun caribe

riviera maya
mahekal
beach resort

riviera maya

luxury bahia principe akumal
| | |
| --- | --- |
| | Places to visit |

In Cancun numerous historic attractions and the most beautiful natural landscapes stretch out along the coast of Yucatán, whose capital is Mérida, from Punta Allen to Puerto Morelos, passing by Isla de Cozumel, where the second largest barrier reef in the world is located. The air links occur every 30 minutes from Cancun.
The archaeological zone of Tulum is one of the first places to arouse the attention and the third most visited. Today, a site formed by the ruins of houses, meeting centres, temples and even spaces where there were conducted funerals and religious rituals, Tulum had, in previous times, more than 10 thousand inhabitants. About 40 kilometres away is Coba, rival of Chichen Itza which was subdued although today it still counts 6.5 thousand structures, even though few were recovered or are visible.
Chichen Itza is 90 kilometres away from Coba and it holds History, Science and Astronomy. El Castillo, as the main pyramid is called, projects visual effects of shadow and light, being composed of 91 steps in each of its four sides, which, adding the upper platform, reaches 365 steps, equivalent to the number of days of the year. It was here, along with the Observatory, that the Mayas studied the stars, mapped constellations, created their own calendars and tried to anticipate natural cycles.
Another option is a tour to Isla Mujeres, 18 kilometres away from Cancun, whose access is done by boat in just over half an hour. White sand beaches and translucent waters that will make you feel in a real paradise will wait for you there.
The Cenotes which craters formed by erosion of limestone and filled by underground rivers are another attraction of Mexico and there are between 6 to 7 thousand, some of them reaching 30 meters deep. Be sure to visit the water parks, namely Xcaret or Xel-Ha.
| | |
| --- | --- |
| | Eating: what and where? |

The tacos and burritos are a hallmark of Mexico, but there are other specialties, such as the conch or fish ceviche that are a marinade of conches or fish made with lemon, vinegar, onion, tomato and coriander. The meat tends to be grilled and accompanied with sauces that vary between soft and very spicy. To drink, try a pineapple or a strawberry daiquiri or a margarita. There are restaurants' options outside of the hotel units, but remember that the resorts typically offer every type of cuisine.

- Nomads Cocina & Barra - International, Mexican, Vegetarian, Vegan and gluten-free options | Av. Carlos Nader 78 – Downtown Cancun | 6 € - 15 €
- Passion by Martin Berasategui - Spanish, Vegetarian, Vegan and glúten-free options | 5th Av. Esquina Street 112, Colonia L. D. Colosio, Playa del Carmen | 13 € - 60 €
| | |
| --- | --- |
| | Curiosities |

The Mexican flag boasts three colours, each one with its meaning: the white symbolizes hope, the green unit and the red symbolizes the blood of national heroes.
With views of the Caribbean Sea, Tulum was called Zama, which means 'Dawn', a moment one should witness. From November to January and March to July it is also possible to visit Tulum at night.
Chichen Itza, which receives more than one million tourists per year, means "mouth of the pit of water witches", making reference to the sacred cenote (Xtoloc), the great well that the Mayas regarded as one of the main entrances to the Xibalba, underground world ruled by spirits of disease and death.
Although the official language is Spanish, 62 indigenous languages are spoken in Mexico. Remember that half the Mexican population has indigenous ancestors.
| | |
| --- | --- |
| | Advices |

Having a tropical climate, between May and September, the coastal regions and the regions of low altitude live a humid period. Between July and August there is greater movement because both Mexicans and foreigners are on vacation. The Easter Week is always attended by Mexicans.
It is not necessary to travel with visa as the passport is sufficient for stays up to 90 days for the citizens of the European Union. On arrival a letter of tourism is delivered and must be retained until the end of the stay.
It is not obligatory any vaccination but the vaccines for Hepatitis B and Prophylaxis of Malaria are advisable, particularly for trips to the interior of the Yucatan Peninsula. Do not buy articles in coral. The reefs are grateful.
| | |
| --- | --- |
| | UTC | GMT -5h |

mexico | +52
cancun | 998

| | |
| --- | --- |
| | euro | 21,03 mexican peso |