If you cannot ready this newsletter correctly click here
OFFICES
UK portugal spain USA Brazil argentina
| | |
| --- | --- |
| | TRAVEL TIPS |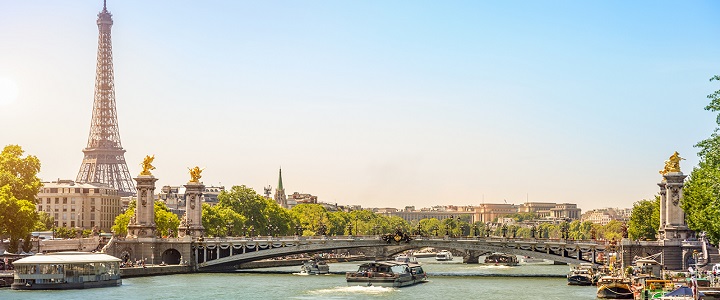 PARIS
FRANCE
Capital of fashion and romance, Paris is essential and the nr. 1 touristic destination in the world. Divided in 20 districts, is one of the key major cities in Europe and is up to the expectations of anyone who visits it.
| | |
| --- | --- |
| | Places to visit |

The Eiffel Tower is the main symbol of Paris and no trip is completed without passing through the Gustave Eiffel's greatest work of engineering. The visiting rates are from €5 to €14 and at night the Tower is illuminated every hour for five minutes. But there are numerous touristic attractions in this city, namely, the Arc de Triomphe, Sacre-Coeur, Champs Elysées: the most beautiful avenue in the world and the Louvre Museum where it is, for instance, the famous painting of Mona Lisa. The Opéra National de Paris is another emblematic and sumptuous venue where it is possible to assist to some of the most worlds famous operas; The Notre Dame Cathedral, built as a pagan temple, has become an important centre of Christian worship devoted to Saint Stephen. To shows the following cabarets are not to miss: Moulin Rouge, Paradis Latin and Lido, the last one is going to have the first premiere in 12 years in April 3rd; and because Paris is also the fashion capital we do recommend a visit to Galleries Lafayette where it is possible to get to know the work of many and distinguished designers.
| | |
| --- | --- |
| | What to eat? |

Refinement and prestige go hand in hand in French cuisine. From the most traditional croissants and delicious crepes, to the most sophisticated fois gras and duck magret, among other meats such as pork. Variety is another keyword, particularly in regards to cheese, always pleasantly accompanied by well-known French wines. The diversity from the different regions, give character to the gastronomy, that up to today still experience influences from North Africa or even China. The Saint Germain and Marais districts, are leisure areas with unconventional restaurants and bars.
| | |
| --- | --- |
| | Curiosities |

The first record of Paris belongs to the Romans. "Lutetia" was the name given by Julius Caesar and it means "mud" in latin, due to the floods of Sena.

An urban legend says that the Louvre Pyramid is composed by 666 rectangles, clearly a number associated to Satan, but the Louvre Museum itself refers that in total there are 673 glass panels.
| | |
| --- | --- |
| | Advices |

If the subway is the elected transportation to discover the city, for saving money, we do recommend the acquisition of a carnet of 10 tickets instead of the individual ones.

The lovers of art and museums may have a nicer visit in case they get the Paris Pass. It is a card that allows the direct access with no queuing to over 60 venues, such as the Louvre, the Orsay Museum, Picasso Museum, Quai Branly Museum, Cinema Museum, Auguste Rodin Museum, Centre Pompidou, Jacquemart André Museum, Notre Dame, Arc de Triomphe, Grévin Museum, Châteu de Versailles and others.