If you cannot ready this newsletter correctly click here
OFFICES
UK portugal spain USA Brazil argentina
| | |
| --- | --- |
| | TRAVEL TIPS |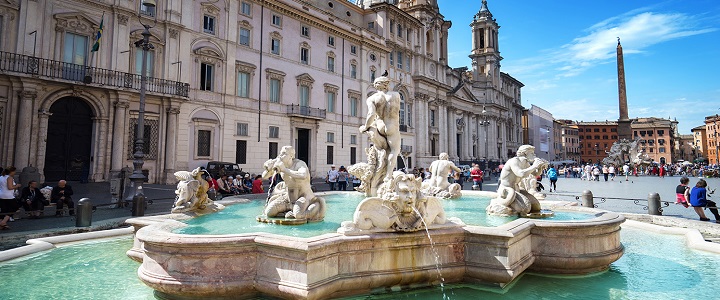 ROME
ITALY
Religious, old, beautiful, elegant and trendy, Rome is the place to be at any time of the year. For those coming for the first time, prepare to fall in love. You will return.
| | |
| --- | --- |
| | Places to visit |

Start your visit to Rome in St. Peter's Basilica, whose nave with 187m long was designed by Micheangelo. Also mandatory is a trip on tram 19, running along its 15 km route since 1974, which allows passangers a historical visit, from Tiber at Ponte Matteotti, stopping at the prestigious Villa Giulia Etruscan museum, Gallery of Modern Art, a stop that is place to alight for a stroll through Parioli neighbourhood to Piazza Buenos Aires, La Sapienza University and San Lorenzo, a lively student quarter packed with cafés and eateries. Vatican is a unique treasure trove of art with all their museums. Try to avoid queues, which can be half a km long or more and book a timed slot for a visit through the museum website. Besides the museums, Vatican has its own gardens that were built in 1279, by Pope Nicolas III, and nowadays they have various influences, like the italian or english style, and a piece of the Berlin Wall, on these 22 hectares that needs two hours to a guided tour (can be also booked). Other suggestions are Castle Sant'Angelo and the various piazzas amongst which we highlight Piazza Navona, Pantheon, Fontana de Trevi, Piazzas della Republica and di Spagna, known as the sitting room of Rome. At the end, don' forget to pay a visit to a ice cream parlour.
| | |
| --- | --- |
| | What to eat? |

Besides pastas and pizzas, italian cuisine is based on seasonal ingredients and prepared in a simple way.

Among these, the most important are vegetables (typical are peas, globe artichokes and fava beans); meat (milk lamb and goat) and cheeses (lots of them).

A typical condiment is strutto, pork lardprepared and canned each winter.
| | |
| --- | --- |
| | Curiosities |

You will need determination to climb up to St. Peter's Basilica's dome as there are 551 steps in total before reaching the top. Even if you go for the elevator option, there are still 320 steps. The (statue) of Virgin Mary, or how they call it "Madonelles" is in every part of the town. There are more than 500 located in the oldest part of the city. Under the ground there is another city. Old temples, churches, aqueducts are some of the examples. Built between 70 and 72 A.D., the Colosseum of Rome accommodated up to 50,000 spectators for the gladiatorial battles. Rome is known as the Eternal City, being one of the oldest in the world, the romans belives that Rome will last forever.
| | |
| --- | --- |
| | Advices |

On summer the temperatures can reach the 35 degrees or more, so keep this in mind because Rome is an open museum where walking is the best solution. Public transport fares are around € 1.5 (one way).
Avoid touristic restaurants and try to find where the italians go. For a quick meal, because we don't want you to miss a thing, choose the Panineria restaurants and for those who likes coffee try the macchiato or by the end of the day take an appetiser in the Piazza del Popolo.
On the streets pay attention to the trafficc that can be chaotic and to the pickpockets, especially on the metro or public transportation.